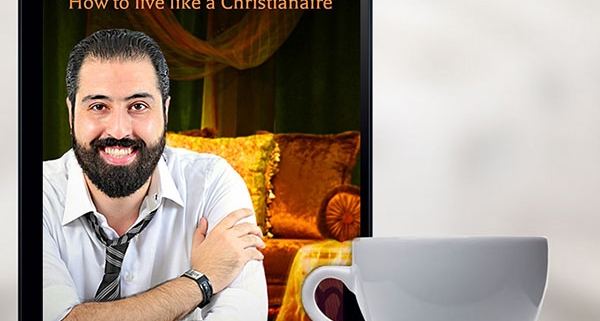 From my book "Blessed in Christ" – How to live like a Christianaire! Purchase & download your digital copy today! Click here.
God called you blessed when he created you.
In Genesis chapter one, God made man in his image and likeness and commissioned him things to do. You are made in God's image and God is blessed, so you are blessed.
"Then God said, "Let us make man in our image, in our likeness, and let them rule over the fish of the sea and the birds of the air, over the livestock, over all the earth, and over all the creatures that move along the ground." God created man in his own image, in the image of God he created him; male and female he created them. God blessed them and said to them, "Be fruitful and increase in number; fill the earth and subdue it. Rule over the fish of the sea and the birds of the air and over every living creature that moves on the ground." Genesis 1: 26-28
But before God blessed them to DO, he already blessed them to BE. Man was blessed because he was made after the image and likeness of God, Selah. It can't get any better! The greatest blessing you can have is to be like the one who brought you into existence, God Almighty.
Before doing things with him and for him, before possessing substances, before having titles, names, and positions, your ultimate blessing resides in being made in God's image.
Now the devil was at the corner to steal the blessings of man and to distort his blessed image, and he did.
Adam lost it all including us because we were "in Adam", same nature of him, and because of Adam mankind was cursed including the land itself. Sin, curse, and death entered the world through yielding to the temptation of doing it all without God. The devil succeeded and distanced us from God. We never wanted God!
Many including me used to ask: "why would I receive someone else's fault, sin, and consequence?" and we become angry with Adam, after all, he is the reason of all the pain and mess in our world. Then we try hard and make it our quest to reach heaven for one thing, to slap Adam and spill all our anger on him.
My friend, the reason you and I would have received and lived in the death loop of someone else's fault simply is because if we were to replace Adam, we would have done the same thing he did. God is merciful to you and me that he didn't chose us to be public pioneers in messing it all from the dawn of creation. Thank God your name and mine is not listed on the first pages of the bible as a lesson to remember forever! How about that? (Yeah you can praise him here).
For all men have fallen short and needed the Glory of God.
"The LORD saw how great man's wickedness on the earth had become, and that every inclination of the thoughts of his heart was only evil all the time. The LORD was grieved that he had made man on the earth, and his heart was filled with pain. So the LORD said, "I will wipe mankind, whom I have created, from the face of the earth–men and animals, and creatures that move along the ground, and birds of the air–for I am grieved that I have made them."
Fast-forwarding to the good news. Our Lord Jesus Christ, the second and last Adam, the perfect man without a sin, wrinkle and blemish came and gave himself for our atonement and eternal sacrifice, redeemed us and cleansed us by his blood and reconciled us back to God.
THE Door was opened for us to come boldly before the throne of grace and mercy through Christ.
When God created man he said, "It is very good". God will only put an "it is very good" stamp over what he makes. He will never say very good to our self-righteousness, failing religious attempts or to our "intelligent" strategies to build a tower to reach Heaven. It was so clear and LOUD when God said over Jesus Christ, the only Lamb of God, at the river of Jordan when John the Baptist baptized him "This is my beloved son in whom I am well pleased".
The person and sacrifice of Jesus Christ on the cross is the only pleasing thing to God. Redeem your time and stop trying to look good for God. Just humble yourself, receive Jesus Christ in your heart and you will be stamped again "VERY GOOD"! Jesus is your righteousness. What a gift!
"All of us have become like one who is unclean, and all our righteous acts are like filthy rags; we all shrivel up like a leaf, and like the wind our sins sweep us away." Isaiah 64:6
All the animal sacrifices made in the Old Testament although required by God himself didn't please him. They were only a temporary covering and shadow for what was coming, for who already came, Jesus Christ!
Our blessed Lord died for all, one sacrifice, one salvation for eternity! It is the gift of grace and righteousness offered by God to us because he loves us and wants us back because though sinners are loved by God they can't live in the abode of his holiness. Hallelujah, the high cost of pride was paid by THE humble ONE. The Justice and Mercy of God were fulfilled in Jesus on the cross.
God is just and merciful. He knows we are sinners who can't redeem themselves by themselves, so he sent his son as THE sacrifice, paid the price of sin with a severe judgment and unleashes his mercy over everyone who receives Christ and what he accomplished for us. On the cross, the justice and mercy of God hugged each other!
In Christ, you are blessed!
This is what I am going to walk you through in this book that I pray will impart revelation, faith and awareness of who you are in him and to help you position yourself to receive every good gift God has in store for you. He knows what he has planned for you, it is thoughts of peace to give you hope and a future but do you know it?
"Therefore, I urge you, brothers, in view of God's mercy, to offer your bodies as living sacrifices, holy and pleasing to God–this is your spiritual act of worship. Do not conform any longer to the pattern of this world, but be transformed by the renewing of your mind. Then you will be able to test and approve what God's will is–his good, pleasing and perfect will." Romans 12:1-2
I can't list all the blessings of Christ to you that's why you have your bible that speaks volumes! I will share some of it here to get you started so you can sail deeper with the Spirit later.
I want to whet your appetite!
Remember you are blessed first when you are Christ like and blessed with a real inheritance as well that God longs for you to know about, possess, enjoy and glorify him with it.
"Praise be to the God and Father of our Lord Jesus Christ, who has blessed us in the heavenly realms with every spiritual blessing in Christ." Ephesians 1:3
Toni Francis
From my book "Blessed in Christ" – How to live like a Christianaire! Purchase & download your digital copy today! Click here.
👂 My Latest Podcasts
شفاء الأمم مع طوني فرنسيس – Healed Nations with Tony Francis
Tony Francis is from the Middle East. He is grounded in the scriptures and has a licensed degree in biblical studies from MTI, the school of ministry, and a certificate in EPL (effective personal leadership) from LMI. He has authored many books and is the founder of Healed Nations Ministries (www.healednations.com). Tony mentors people in the prophetic and served as the prophetic leader of Patricia King's ministries. Tony is studying to be a mental health coach.
ما هي الأحلام؟ لماذا يكلمنا الله أحيانا من خلالها وكيف نفهم لغزها ومفاتيح كثيرة! – طوني فرنسيس
اذا اردت ان تتعمق في موضوع الاحلام، وما هي الطرق العملية لتفسيرها، اضغط على هذا الرابط للاستماع:
https://www.youtube.com/watch?v=_ZDaLyuxIAc
Does this bless you today? Feel free to subscribe to my YouTube channel, like this video, and comment below to pray for you.
Make a Donation:
https://healednations.com/make-a-donation
Podcast Links:
https://anchor.fm/tonyfran6
Request a Personal Prophetic Word:
https://healednations.com/personal-prophetic-words
Website:
https://healednations.com
Digital Store:
https://healednations.com/digital-store-tonyfrancis
Christian Apparel & Accessories:
https://tonyfrancis.store
Amazon:
https://www.amazon.com/author/tonyfrancis
Twitter:
https://twitter.com/Majed_Francis
YouTube:
https://www.youtube.com/@tony.francis



Let me know your opinion or maybe your AMEN. Comment below:
https://healednations.com/wp-content/uploads/2019/09/blessedinchrist-1.jpg
600
600
Tony Francis - Healed Nations Author
https://healednations.com/wp-content/uploads/2020/10/logo3.png
Tony Francis - Healed Nations Author
2019-09-18 10:46:53
2022-04-03 02:36:50
Blessed, Cursed then Blessed