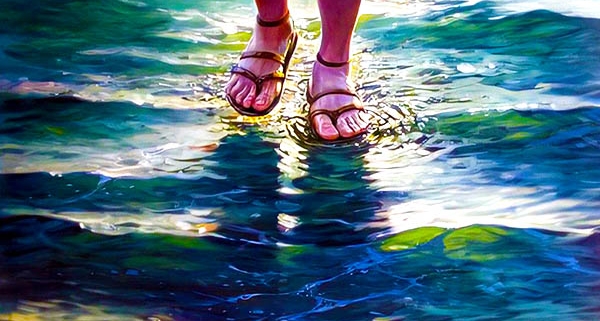 God is a supernatural God, he was, he is and he will ever be. The supernatural may be new to some believers but this is who they are in Christ, supernatural followers!
It is important to know that how you see the Lord is how he manifests to you and through you.
The word of God urges us to "Casting down imaginations, and every high thing that exalteth itself against the knowledge of God, and bringing into captivity every thought to the obedience of Christ" 2 Corinthians 10:5. Why? Because there is a war to veil the knowledge of God in every aspect and area because once God's face is revealed you will believe and see his glory. For generations many believed that eternal salvation is earned, you do good, give your land to the church, etc. Unfortunately, that is wrong and many died in this deception because they couldn't see Jesus Christ as the savior and that his eternal life is a FREE gift we can't earn or work for. There was a war and still in this area for many! I am not under this war anymore, I believe Jesus as is, the Son of God, the Savior of the world, he died for my sins, forgave me, I gave him my life and I received eternal life from now. The devil has lost this war with me, which is a big one.
I can't list to you the numerous battles, the arguments and imaginations that rose and still rising to veil and block the knowledge of God. Many are struggling to see Jesus as the healer, many can't see him as the provider, or the Hope of Glory, etc. But when you break through and see God as he is, he will manifest to you and through you the way you see him according to your faith.
Can you see God as a supernatural God? Is it hard for you to see him this way? Remember, you are in a battle NOT to see him like that because once you engage you will see the glory of the supernatural manifestations of God and the devil doesn't want that for you.
It is a day of the supernatural, Christ is this day, in him, there is no darkness, only light. God wants to deal with your wrong perceptions and touch the way you see him in this area because he wants you to know him as supernatural and he wants you to see his supernatural activity. He wants to express his love to you through supernatural means because it is all about his love for you and not the supernatural itself.
You will overcome the lies of the enemy in the name of Jesus. You will see the Lord and put a demand on his supernatural facet and expressions. He has so much in store, you can't bankrupt him. God wants you to believe he is and he will be a rewarder to those who diligently seek him, Hebrews 11:6.
Yes, it is important how you see the Lord, very important that's why sound theology, doctrine, and teachings are to be the foundation, the kickstart of your encounters with supernatural Yahweh. Are you under the right anointed teachings? Does your church forthtell raw truths about who God truly is? Through what lens do you look at the Lord? It is time to remove the old unbiblical lens and behold the glory of the Son of God, he is supernatural, it is a day of the supernatural!
God is counting on you to believe him as supernatural, he wants his people to pioneer in this belief and manifest him. The world is looking, searching, trying different unclean things and are groaning for the manifestations of your glory, Romans 8.
Thank you for reading.
Tony Francis
Featured apparel & accessories from Tony Francis' store related to this post (Use promo code DISCOUNT25 on checkout):
👂 My Latest Podcasts
Healed Nations with Tony Francis – شفاء الأمم مع طوني فرنسيس
Tony Francis is from the Middle East. He is grounded in the scriptures and has a licensed degree in biblical studies from MTI, the school of ministry, and a certificate in EPL (effective personal leadership) from LMI. He has authored many books and is the founder of Healed Nations Ministries (www.healednations.com). Tony mentors people in the prophetic and served as the prophetic leader of Patricia King's ministries. Tony is studying to be a mental health coach.
التعليم، الوعظ، النبوة، الصلاة، الشفاعة، والعمل بحلقة واحدة



Let me know your opinion or maybe your AMEN. Comment below:
https://healednations.com/wp-content/uploads/2022/07/day-of-the-supernatural-FI.jpg
600
600
Tony Francis - Healed Nations Author
https://healednations.com/wp-content/uploads/2020/10/logo3.png
Tony Francis - Healed Nations Author
2022-07-17 23:54:37
2022-07-17 23:54:37
Day of the Supernatural